Organic farming and food are a vital part of the Canadian agricultural landscape,food business and trade, and our sustainable future here at home and around theworld. That's why the Canada Organic Trade Association (Canada Organic Trade Association) with supporting partner Canadian Organic Growers are very excited to showcase all things organic with this year's Organic Week, marking the 13th annual celebration of organic across the nation.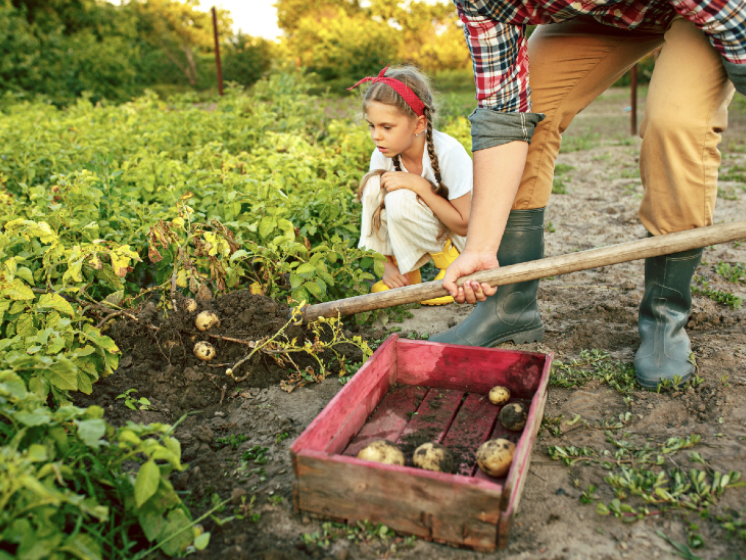 This week-long event will knit together consumers, business leaders, agriculturalspecialists, and organic mentors and pioneers. It's a chance to showcase the wide arrayof benefits organic has to offer. From improved soil, to biodiversity support, to protectionsfor human and animal health, and the mitigation of climate change, there's lots to exploreand celebrate!
September 13-19 all Organic Week events are virtual making it easy to join the conversation. Events include live webinars, pre-recorded content to watch at a time ofyour choosing, free film access, and fun and engaging month-long contests with organicprizes. Plus, the organicweek.ca and semainebio.ca websites will be freshly relaunched toshare educational content and make it accessible for all to participate.
At the store level, retailers from British Columbia to Prince Edward Island will bedisplaying point-of-sale materials in their locations during Organic Week. Theseretail materials were designed and printed by COTA with the support of sponsor dollarsmaking these marketing education tools accessible to supporting partners across thecountry. The in-store materials include shelf danglers and labels, produce sticks, posters,buttons, and more. Organic Week is all about celebration! The heart of itis inspiring consumers to add more organic to their shopping baskets because they knowmore about organic and value what it provides them in their own households and forits wider positive environmental impacts.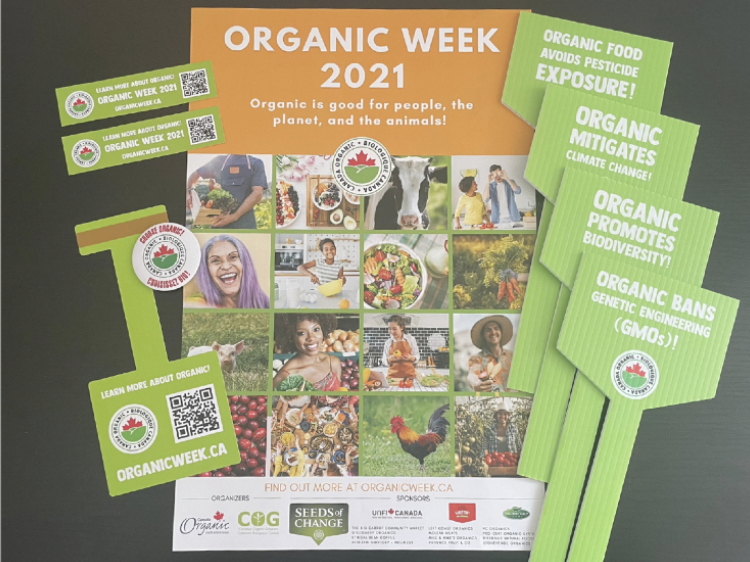 Organic Week drives consumer interest in organic by growing the profile of organic byadding it to the conversations on social media and in media, generally. COTA is enabled to promote Organic Week across the country with the support of Organic Week co-organizer, Canadian Organic Growers, with the co-operation of the organic provincial and territorial associations, along with the generous support of sponsors which are listed below. The increased profile of organic helps all involved along the organic supply chainbecause it results in increased understanding, consumer demand, and sales of organic.
The Organic Week contests are month-long in order to give everyone a chance to getonboard across a variety of platforms. On September 1, COTA will launch fourcontests that will be open until the end of the month. Contest rules are found atorganicweek.ca and semainebio.ca.
Why Do You Choose Organic? (on Facebook and Instagram), which invites participants to share why they choose organic.
Organic IQ Quiz (accessed through organicweek.ca or semainbio.ca), whereparticipants will test their knowledge of organic and be entered to win organicprizes.
#SpotCanadaOrganic (on Facebook and Instagram), where consumers will post photos of the Canada Organic Logo on products, tag @choosecanadaorganic and use #organicweek #semainbio to be entered to win organic prizes provided by our sponsors.
#OrganicMeal #RepasBio (on TikTok), where participants will cook anorganic meal and feature their creations on TikTok by using thehashtag #organicmeal #repasbio to be entered to win.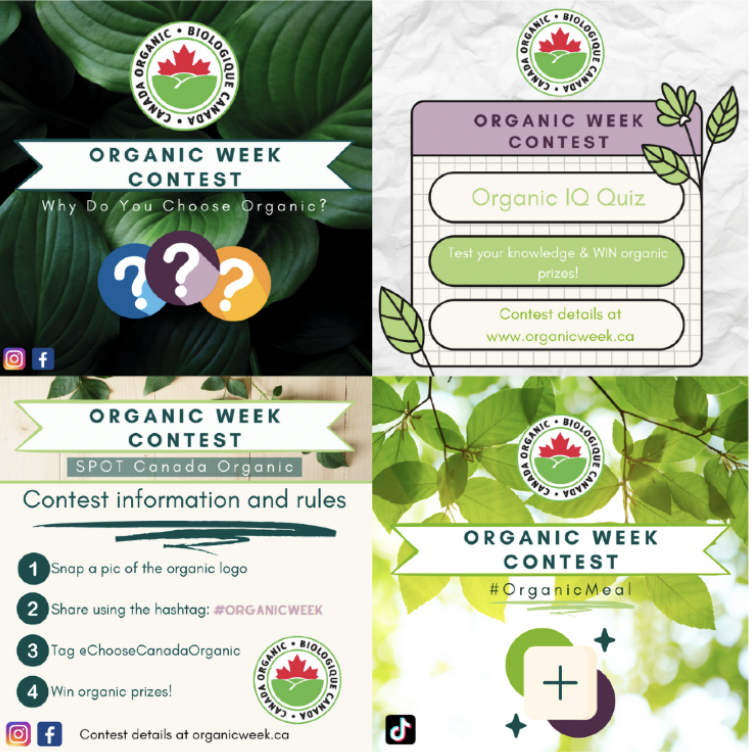 Organic Week webinars and pre-recorded content are free and require registration throughEventbrite.
Opening Day, Monday, September 13: Organic Week Launch Event. Join the event toget the latest updates and key highlights on Organic in Canada featuring new statisticsfollowed by a fun online gathering on Kumospace! (we miss our gatherings!)
The film The Seeds of Vandana Shiva will be available for viewing throughout Organic Week – for FREE with a password!
Tuesday, September 14: Regenerative Agriculture Panel Discussion. This interactivepanel featuring Dag Falck of Nature's Path, Antonius Petro of Regeneration Canada, and arepresentative of Regenerative Organic Certified will provide expert insightson regenerative agriculture and its relationship to organic. Tune in to hear perspectiveson tillage, soil health, fairness in farming and more in this lively debate.
Wednesday, September 15: Soil Seminar. Hugh Martin, an organic certification expert with over 35 years' experience as an agronomist, will present why soil health matters.In a digestible format that will help boil down the science into bite size pieces, Hugh will provide an overview on the connection of soil health to climate change mitigation and how organic can play a role.
Wednesday, September 15: Organic Industry SurveyResults. Three national organic associations collaborated on a comprehensive industry-wide Canadian survey in spring 2021. Learn about the insights gleaned from the sectoron the organic sector's growth areas and barriers. Tia Loftsgard, Executive Director of COTA, and Nicole Boudreau, Coordinator of the Organic Federation of Canada (OFC) will present the results of the study and share next steps.
Thursday, September 16: Seeds Of Change will be doing an Instagram takeover ofthe Choose Canada Organic Instagram providing viewers with what it is like to be amanufacturer of organic!
Friday, September 17: #OrganicChat on Facebook. COTA will host Paddy Doherty, long-time organic pioneer, to share a space for discussion with consumers and industry on all manner of topics regarding organic. Join us online and stay tuned for our 10 questionsthat we will share with you all shortly!
Saturday, September 18: Organic101. Join Kelly Monaghan, an award-winning organicleader, inspector and pioneer, who has expertise in organic regulations and processingstandards, as she highlights the benefits of organic and why it is important.
Closing Day, Sunday, September 19: Chef Conversation. COTA will host celebritychef, Brad Long from Café Belong, a forerunner in supporting organic in food serviceenvironments, and hear his insights about the value of organic in your cooking andenjoying his recipes/tips.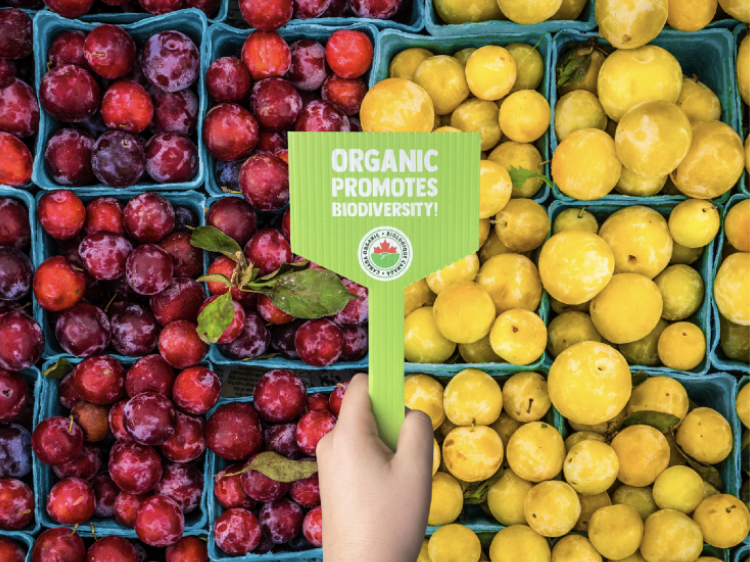 Plus, the Organic Week content will be viewable on the COTA YouTube channel so it willremain an ongoing resource which is accessible after events wrap up.
Getting the word out about Organic Week will take three core pathways: social media,print media, and digital billboards happening. Choose Canada Organic social mediaplatforms (Facebook, Instagram, TikTok, YouTube, LinkedIn, and Twitter) will be very activeduring Organic Week and throughout the month of September sharing content andpromoting events. Print media includes targeted ads in magazines suchas Alive, Abundance, Canada Food & Drink, Vista, Vitalité, and NEXT. The Globe & Mailwill do a Report on Business feature being released on September 10th. New thisyear, Organic Week will be promoted on two digital billboards in Toronto: Dundas Squareand along the Gardiner Expressway.
Members and industry partners are encouraged to join the Canada Organic TradeAssociation in this year's Organic Week with your own unique activities and in-storeactivations. To share your event on our events page reach out to our team!
Stay tuned for updates on events and more. Be sure to keep an eye on the OrganicWeek websites, organicweek.ca and semainbio.ca as they are currently being updated!Mark your calendar for September 1st – when the newly designed websites launch and youcan check out all the amazing Organic Week content!
With sincere thanks to the Organic Week sponsors: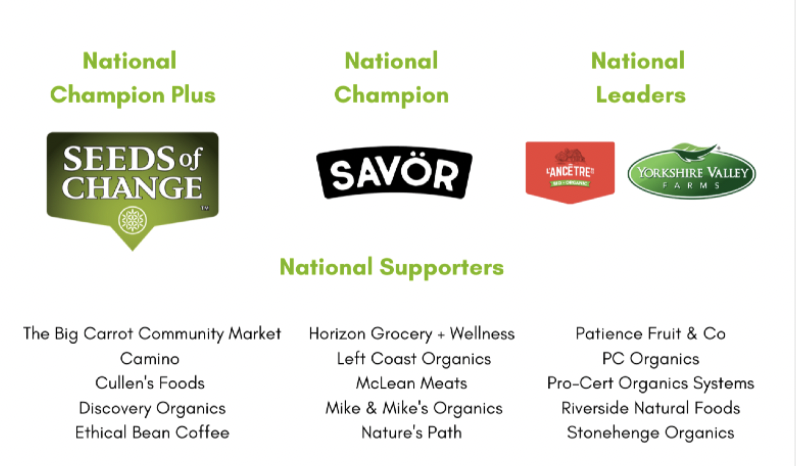 Learn more about Organic Week 2021 here.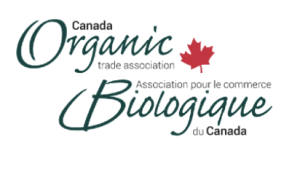 About the Author: The Canada Organic Trade Association (COTA) is the membership-based association for organic agriculture and products in Canada. Ourmembers include growers, shippers, processors,certifiers, farmers' associations, distributors,importers, exporters, consultants, retailers and allpoints along the organic value chain.
Contact our team for more information about Organic Week here.
For more information about COTA check out our website here.